---
Sat Mar 7, 2015 4:49am
So, I've decided to take another go a Millenium Crisis.
Here's a screenshot from 10 years ago for reference: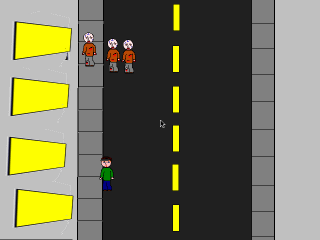 This is technically the 3rd reboot of the game idea. First one was with Qbasic back in the 90s and then again using C++ in the mid 2000s.
With my job, for the past 6 years, I've been writing almost completely in C#. It's finally gotten to the point where I miss C++ and that's been enough to motivate me through banging out a new very simple game engine for Millenium Crisis in the past day.
For the early testing, instead of using my pre-existing sprites of the protagonist and zombies, I'm using kittens and yarnballs. :)
So far I have:
* Configurable number of enemies that hunt you down and attack you (yarn balls)
* Configurable number of NPCs that you can talk to.
* Player's collision detection with everything. Enemies still will walk all over eachother.
* Player can shoot a projectile at a configurable strength to enemies that have configurable health.
* Enemies die when Health goes <= zero, as does player's.
* Player shows damage when getting hit.
* Image's are completely configurable for every player, bad guy, background, etc.
* There's probably a bit more I'm missing... It's been a busy day!
Still left to do:
* Multiple screens. Still need to create "world matrix" so you can move screen to screen and each screens information is set up using "world matrix" resource.
* Player picking up items / inventory in general.
* World sprites (ex: walls, etc). The code is there... should only take an hour or so to implement.
* Story... any ideas?
* More graphic design than I'd like. Final edition won't be kittens and yarn balls. (thus the visible mask failures on the images).. even though I probably would get more downloads in an app store with kittens over zombies. :)
* Probably a lot more I'm missing. It's almost 5am... I'm not thinking straight.
Here's a screenshot of the orange kitten protagonist stealing a second to get yelled at by an NPC before the yarn balls hunt him down and get him: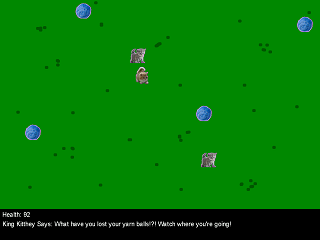 Yes. I'm aware it's unbearably corny so far... but look who it's coming from! :D
I know it doesn't look like much but I've actually gotten more done with this "reboot" so far than the original Millenium Crisis had in all it's development time.
Hopefully more updates to come! :D